HERE'S OUR CURRENT NEWSLETTER
                    N E W S L E T T E R             May / June
2022       
The
All Things Japanese Sale has evolved through the years to become one of JARCC's primary fundraisers. It is an opportunity to browse and purchase a variety of new and/or gently used items, kindly donated by the community at large. Items often include Japanese collectibles, dolls, kimonos, beautiful tableware, framed artwork, books, CDs, and more. All are affordably priced to sell!  Hope to see you then!
---
Amache National Historic Site named newest America's newest national park
by: Associated Press
Posted: Mar 18, 2022 / 08:00 PM MDT/ Updated: Mar 18, 2022 / 05:49 PM MDT
Aerial view of Amache: Water Tower view 
DENVER (AP) — President Biden has signed a bipartisan bill designating a former World War II Japanese American internment camp in rural Colorado as a federal historic site managed by the National Park Service.   Camp Amache already qualifies for preservation funds, but the new designation makes the southeastern Colorado landmark eligible for additional federal money. About 120,000 Japanese Americans were held in 10 camps in California, Arizona, Wyoming, Utah, Arkansas and Colorado after they were expelled from their homes under Executive Order 9066 by President Franklin Roosevelt issued in 1942. More than 7,000 people were interned at Amache between 1942 and 1945.
The U.S. Senate passed a bill on Feb. 14, 2022 that will add the Amache Japanese internment camp site to the National Park System. U.S. Senator Michael Bennet (D-Colo.) said the bill will "help ensure we never forget our nation's shameful incarceration of Japanese Americans." Colorado Republican Rep. Ken Buck and Democratic Rep. Joe Neguse co-sponsored a similar bill that passed in the House last year 416-2. The Senate's bill, however, moved slower — Republican Sen. Mike Lee of Utah was the sole senator opposed to passing the bill by unanimous consent last week. Bennet and Lee eventually negotiated a deal so that the Amache land would be transferred as a donation and then the bill passed by unanimous consent.
The Amache National Historic Site, formerly the Granada War Relocation Center, was known to the internees as 
Camp Amache
named after a Cheyenne Indian chief's daughter who married John Prowers (1839-1884). Prowers was a prominent cattle rancher for whom the county is named where the camp is 
located in Colorado, 1.3 miles (2.1 km) southwest of the small farming community of Granada, south of U.S. Highway 50.
Granada opened on August 27, 1942, and reached a peak population of 7,318 persons by February 1943, making it the smallest of the WRA camps (although the total number who passed through the camp during its three-year existence was over 10,000). Nearly all of the camp's original internees came from California: southwest Los Angeles, the Central Valley and the northern coast.
Photo above: Newly constructed barracks/ water tower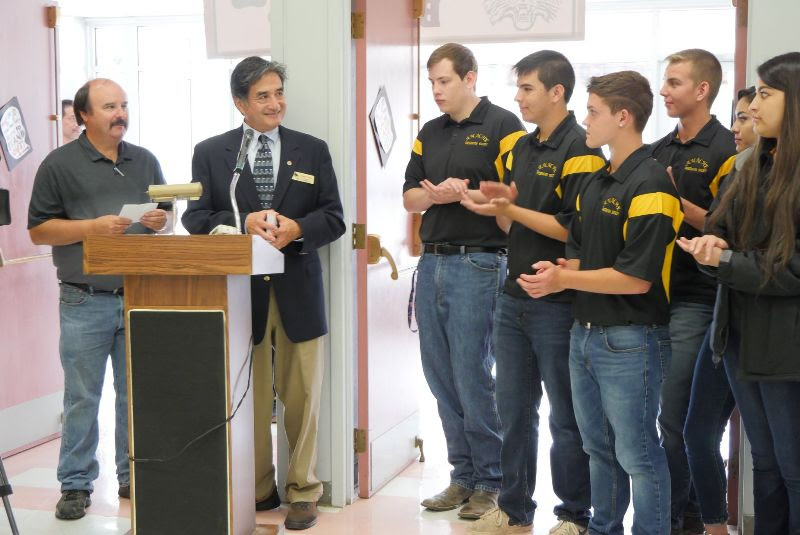 Photo: Calvin Hada
John Hopper (left) stands with Calvin Hada and high school students who currently work to preserve the Camp Amache site. 
Today, Amache is maintained by the Amache Preservation Society (APS). The society was established by Mr. John Hopper, a social studies teacher and now Principal at Granada High School, and consists of volunteer students from that school. With the help of many other organizations including Amache Historical Society, the Friends of Amache (formerly the Denver Central Optimists Club), The Japan America Society of Southern Colorado, Denver University, Nikkei Jin Kai and many other supportive organizations, the APS has begun to renovate Amache, particularly the cemetery, and established an Amache Museum. 
The Amache site consists of a historic cemetery, a monument, concrete building foundations, and several reconstructed and rehabilitated structures from the camp era. Amache was listed on the National Register of Historic Places on May 18, 1994 and designated a National Historic Landmark on February 10, 2006 through the direct efforts of the many organizations listed above.                                                   
The Amache Museum is located in downtown Granada at 205 E. Goff Avenue and is usually open five days a week in the summer. The museum is closed on Sundays, Mondays, and major holidays. During the school year, it is open on demand Mon-Sat. All tours must be private tours and face masks please.
Contact the Granada School at 719-734-5492 or email: amache@usa.com to schedule a visit.
              6:00   Pickup – Simpson United Methodist Church
              6:30   Pickup – Tri-State  Denver Buddhist Temple                                  8:00   Break –  Limon Refreshment Stop                   
            11:00   Arrival at Amache
              Welcome:                Frank Miyazawa (Nikkei Jin Kai of Colorado )
            Hoji & Oshoko:       Reverend Noritaka Imada   (Tri-State Denver                                                     Buddhist Temple)
            Benediction:            Brian Lee (Simpson United Methodist Church)
              Floral Offerings:     JA Community Organizations
12:30 PM    Arrival at Granada High School
 Potluck Lunch
All Participants Bring Your Favorite Dish 
Refreshments Will Be Provided by The NKC 
               
              1:30 PM    Amache Museum Tour or Amache Site Tour 
              2:30 PM    Return to Denver 
              6:30 PM    Denver Arrival 

           COST for BUS:  $30.00 per Person (non-refundable unless cancelled)
           CONTACT:      Hiro Hansen 720 366-9798        hansenhiro@aol.com
                         Mail  check to: 6210 Janice Way, Arvada, CO  80004
 
      Photo: Courtesy of U.S. Japan Council 
Vice Chair of the USJC Board of Councilors and former Secretary of Transportation Norman Mineta during the 2018 Annual Conference                                     
        The U.S. Japan Council Mourns the Passing       of Norman Mineta
The U.S.-Japan Council (USJC) mourns the passing of former U.S. Secretary of Transportation and former U.S. Secretary of Commerce, the Honorable Norman Y. Mineta. Serving on the USJC Board of Councilors since 2010, Secretary Mineta was a longtime member and supporter of the Council.
As a champion for developing Japanese American leaders, Secretary Mineta embodied the values of the USJC and was a source of pride and inspiration for the greater Asian American community.  
"Norm was such a great and accomplished individual and yet so humble and approachable," reflected Chair of the U.S.-Japan Council and Executive Chairman of Central Pacific Bank Paul Yonamine. "His contributions to our country and to organizations like the U.S.-Japan Council were tremendous and lasting."
---
 HAPPENINGS is currently experiencing technical difficulties at this time
and will resume publication soon.
THANK YOU FOR YOUR PATIENCE!
YOUR SHOPPING SUPPORTS JARCC
: 
Amazon Smile program: Remember JARCC while you do your shopping online.
            Go to smile.amazon.com to register JARCC as your charitable organization of choice.

The King Soopers Loyalty Program:  Link JARCC as your charitable organization
on your King Soopers loyalty card.  Use your loyalty number when you shop in person or order online. 
Feed your families, keep your tummies full and support JARCC at the same time. 
Many THANKS!
Donations: JARCC is most appreciative to our members
for their amazing generosity during 2021.
Donations in memory of individuals or to celebrate individual successes
are welcomed to "Keeping Heritage and Culture Alive." 
Donations may be made online by clicking on the button on the top right of the homepage.
 
Website:  www.jarcc-denver.org
Contact:  info@jarcc-denver.org
SUBSCRIBE TO OUR NEWSLETTER